I've been making upcycled flannel tops for my fall shows, using Paganoonoo Patti upcycle sewing instructions. Since I am very particular about color and pattern combinations (
Paganoonoo video tip here)
, there have been times where I have been stuck finding a match for the base garment.
One day I was in my favorite thrift store perusing the men's sweaters looking for cashmere when a lightening bolt hit me. Merino wool!!!!! I could use Merino wool (and/or cashmere) for the back swing panels.
When I purchase wool sweaters from the thrift store I put them through a regular wash and full dry cycle. Do they shrink? Almost always. Sometimes I put them through twice and they shrink even more. The great thing about doing this is that:
1) The garment they go into is then washable
2) Any moth holes shrink
3) I assume any moth eggs are killed
4) They become felted so raw edges do not ravel
There are many ways to use felted wool,
Paganoonoo video tip here
. I find that 100% cashmere and merino wools shrink less than regular wools, perhaps a couple sizes, not to child size proportions (but do not count on that!)
General observations:
I've found that the ribbing on the bottom makes a great waistband so I turn the pieces upside down a lot.
Machine stitching can make the seam ripple. This effect can be lessened with a good steam pressing. I avoid it altogether by hand sewing the seams.

I know, sounds tedious unless you like hand sewing like I do. I find that this type of wool is the most forgiving type of hand sewing you can do. Easy to push the needle through, stitches don't show too much if you use matching thread. I use a running stitch and do a double row.
Small bits make great patches and motifs.
Want to upcycle your own Patti blouse?
Purchase instructions today
. Paganoonoo upcycle sewing FAQ (
frequently asked questions
) answered here.
Happy upcycling!

Michelle Paganini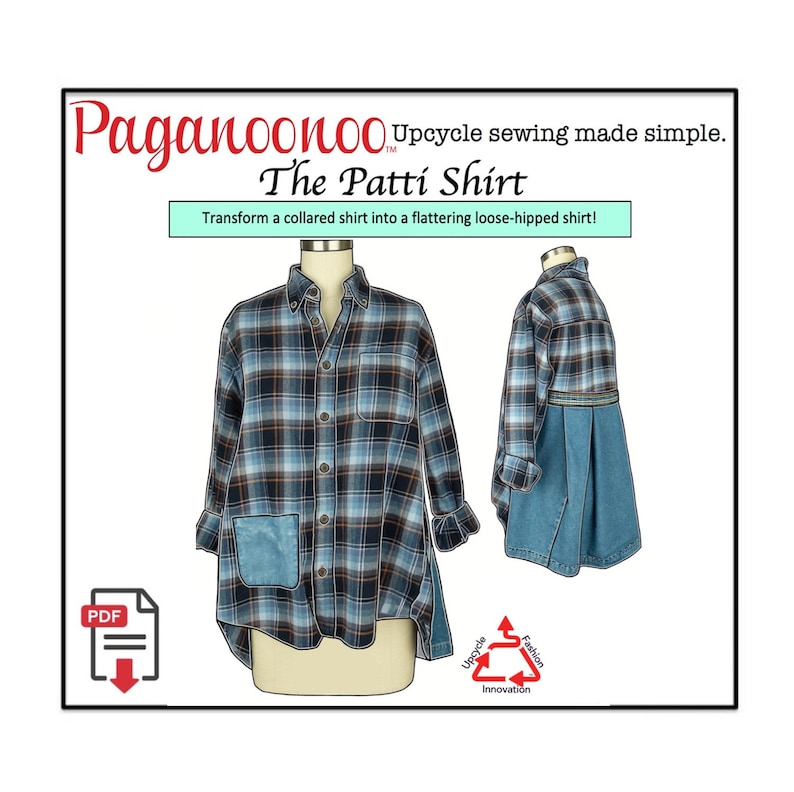 www.paganoonoo.com